GB7BBC
Ariel Radio Group System map
---
This is the internal network map of the packet radio system administered by the Ariel Radio Group in the London area.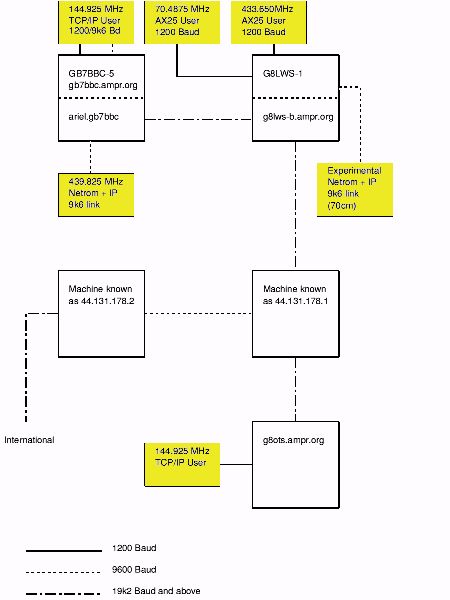 ---
Acton
Starting from top left and going clockwise you can see GB7BBC, a TNOS TCP/IP BBS supported by the Linux Kernel ariel.gb7bbc. There is a G8BPQ netrom node (G8LWS-1) inhabiting a second machine, which is also host to an IP router, g8lws-b. This router is able to access the radio ports controlled by the BPQ node. Netrom frames from the G8LWS-1 node bound for GB7BBC are transported via an AXIP mechanism through g8lws-b and the linux kernel ariel.gb7bbc.
Surrey
The "machines known as" (44.131.178.1 and 2) are IP routers based on a WA3DSP version of JNOS ("dff"), whilst g8ots is a JNOS configured as a PMS with access to the 144.925 local TCP/IP user frequency.

Machines configured as IP routers are not equipped with TCP or UDP servers, and consequently, are a bit difficult to connect to.
---