Gareth's "Travel" Page
---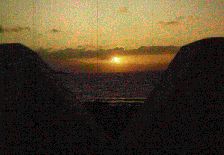 Thankfully, the sun is always over the yard-arm somewhere in the world.
---
I wanted to see the world when I was young, then to live to journey it again in my twilight years and see just how much it had changed. Thanks to fate, wanderlust and a dreadful job, I get to make sure that the world is still there, and that it suffers a dreadful hangover on my return home.
Most serious independent travellers will already be in possession of a British Passport (perhaps one of the best in the world to travel on), and a copy of the "Rough Guide" for their intended destination. For some less savoury destinations, a second passport might be a good idea too, plus a supply of international driving licences ready to be torn up at the roadside.
---
Destination:
Center Parcs
"You two haven't been on the fitness trail, you've been in the pub !"
Prague
"Only twenty pence a pint ? How much is a season ticket to London from here ?"
Rio
"How on earth are you going to get that Lion home ?"
Sydney
"One is nice, two is sufficient, but three is not enough !"
Athens
"Do you have to pay for the drinks ?"
Bangladesh
"Not one Onion Bhaji - anywhere."
Barcelona
"You've got a fridge full of 'em, and they're all the local equivalent of Tennant's Super."
Cameroons
"Straight through the middle of the elephants, then left at the giraffes"
Chad
"You have twenty four hours Monsieur, then ....."
Gambia
"For you my friend, a special price !"
Killarney
"We'll ring through to the pub when its ready"
Lanzarote
"If you want my opinion, the best place to see Fuerteventura from is here ...."
London
"Holy Shit, it's the Queen !"
Maldives
"HOW many Tigers ?"
Mykonos
"HOW many Islands did you want to see, Daniella ?"

Naxos
"It was a deathtrap !"
New York
"Italians always sit FACING the door ..."
Nigeria
"Gareth ! I've just found a toilet... and .... it's got a seat !!"
Paris
"Well, if you order a cheese sandwich in France, what do you expect ?"
Portugal
"It's only been parked there two minutes, and someone's tried to nick it."
Senegal
"Watch out ! there are serious bushes ahead."
---
return to menu page gareth@lightfox.demon.co.uk